Sleeping Giant Conference 2023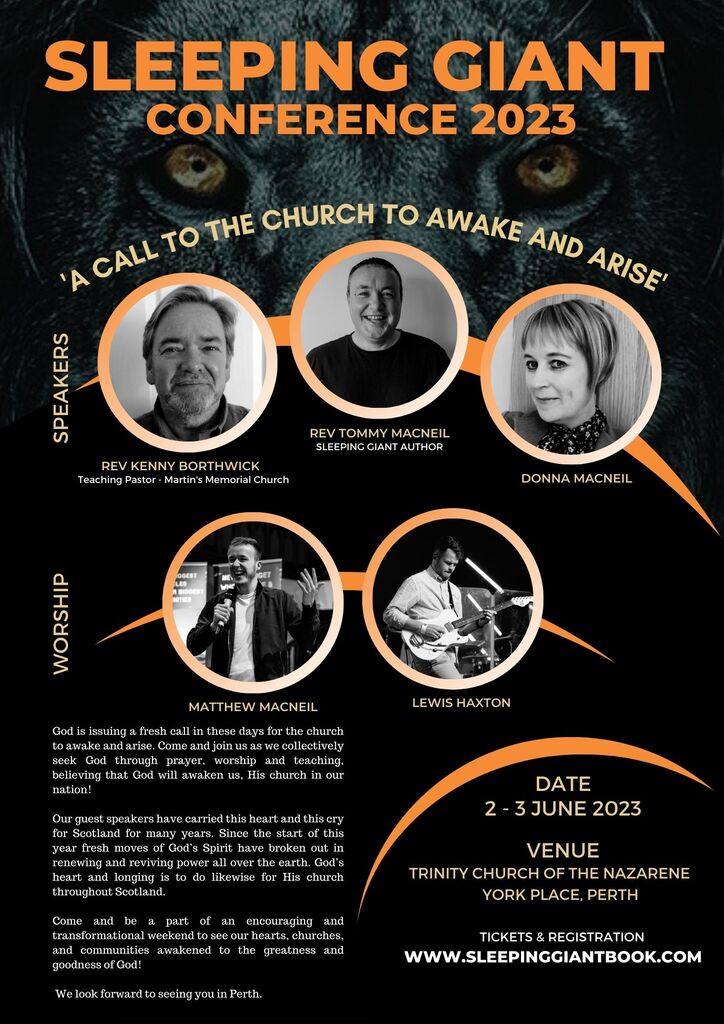 Friday, 2 June 7:30pm
→ Saturday, 3 June 2023 10:00pm

Trinity Church
About
God is issuing a fresh call in these days for the church to awake and arise. Come and join us as we collectively seek God through prayer, worship and teaching, believing that God will awaken us, His church in our nation!
Our guest speakers have carried this heart and this cry for Scotland for many years. Since the start of this year fresh moves of God's Spirit have broken out in renewing and reviving power all over the earth. God's heart and longing is to do likewise for His church throughout Scotland.
Come and be a part of an encouraging and transformational weekend to see our hearts, churches, and communities awakened to the greatness and goodness of God!
We look forward to seeing you in Perth.



SLEEPING GIANT CONFERENCE 2023
'A CALL TO THE CHURCH TO AWAKE AND ARISE'

Date: 2nd & 3rd June 2023

Where: Trinity Church Of The Nazarene, York Place, Perth PH2 8EH.
Websites: https://www.sleepinggiantbook.com

Speakers: Rev Tommy MacNeil - Rev Kenny Borthwick - Donna MacNeil

Worship Leaders: Matthew MacNeil & Lewis Haxton


Schedule: Friday 2nd June - 7.30-10.30pm

Saturday 3rd June 10am-1pm - 3-5pm - 7.30-10pm


Doors will open: 7pm on the Friday for registration.

Please Note: There will be no childcare provision at the conference.


Other:
Please see https://www.sleepinggiantbook.com for full details & updates.

If you have any questions concerning the conference please email: admin@sleepinggiantbook.com

Venue information can be found at:
https://www.trinitychurchperth.org


Location
Trinity Church Trinity Church of the Nazarene, York Place, Perth, Scotland
Info This event has now passed.