Awakening Youth Conference 2023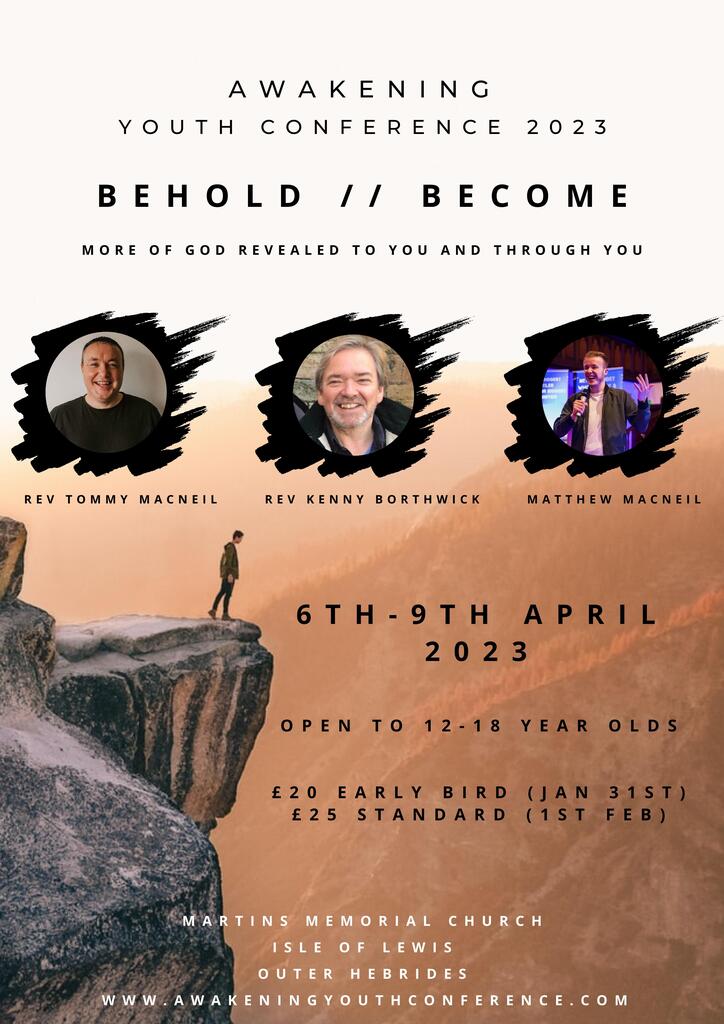 Thursday, 6 April 7:30pm
→ Saturday, 8 April 2023 10:30pm

Martins Memorial Church,
About
Information & Details:
We invite you to join us in the Outer Hebrides from 6th - 8th April for the Awakening Youth Conference 2023. We have known so much of God's presence in our midst, but there is far more yet to be known. God has called us to a high place, but He invites us to go even higher to know more of who He is.


God is ready to reveal more of Himself to those who are seeking.​
​When we see who He is, we see who He has called us to be.
Come to be awakened to the more God has for you!

Visit our website to find out more HERE

Book your place Now:
Tickets are priced at:
£20 Early Bird (until 31st Jan 2023)
£25 Standard Price (1st Feb 2023 onwards)

After booking you will receive a confirmation email. If you do not please check your junk/spam folder first before getting in contact.

We warmly welcome Youth Leaders to attend free of charge. Please contact us at www.awakeningyouthconference.com to receive your complimentary ticket.
The conference will be held in Martin's Memorial Church, Stornoway, Isle of Lewis. Lewis is known for experiencing the last great move of God's Holy Spirit in revival in the UK, from 1949-53 (The Hebrides Revival).

More details on times and seminars to follow.
Visit www.awakeningyouthconference.com for further information and updates.
Location
Martins Memorial Church, 11 Francis Street, Stornoway, HS1 2NB
Info This event has now passed.